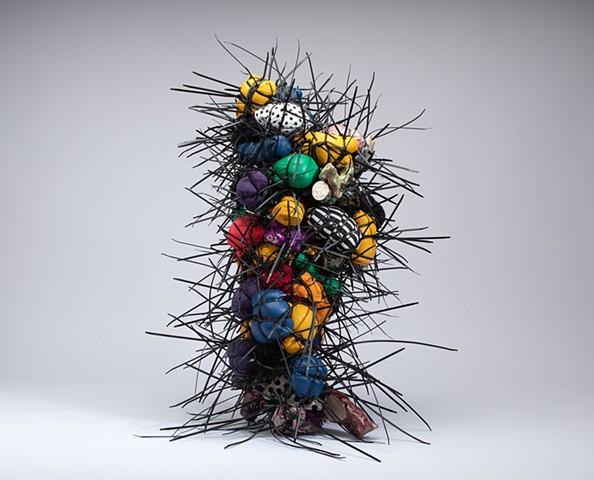 IMAGE: Bitten 3 | 2022 | ceramic shards, fiber, leather, zip ties, | 35 x 18 x 12 inches
UPCOMING EVENTS:
MoAD, EPA presents Ramekon O'Arwisters in Conversation with George McCalman, Wed, 3 May, 6:30 pm-8:00 pm
Ramekon O'Awristers: Freeform and Razor-Sharp, Curator: Selam Bekele, MoAD, April 5–June 11, 2023
Fight and Flight: Crafting a Bay Area Life, April 15–September 10, 2023
RECENT NEWS:
2021 Art Business Accelerator Grant Recipient
McLaughlin Awards Program, Visual Arts, Artist-In-Residence Program, Headlands Center for the Arts, 3 June–17 July, 2021
2021–22 Pollock-Krasner Foundation Grant Recipient
Q&A: "Held Firm—A Conversation with Ramekon O'Arwisters" by Maria Porges, July–August 2020, Sculpture Magazine
"Ramekon O'Arwisters' Ministry of Mending" by Maria Porges, May 20, 2020, Squarecylider.com, San Francisco
Brian Boucher's Daily Dispatch, San Francisco, January 17, 2020, "We All Feel Broken"–Ramekon O'Arwisters' Sculptures Stand for Our Vulnerable Beauty
SFMOMA announces 2019 finalists for prestigious SECA Award
Making larger sculpture using shards—discarded, thrown-out, dangerous, deadly, razor-sharp, jagged, abandoned, eternal, worthless, marginalized, hard, unsympathetic—represent my anxiety, anger, fear, bitterness, and hopelessness associated with the permanence of White-body supremacy.
Growing up in Jim Crow South during the Civil Rights Movement, I had a safe haven, quilting with my grandmother where I was embraced, important and special. These early memories prompted my nascent series of unique crocheted, ceramic sculptures, "Mending." Employing ordinary household or decorative pottery, broken and discarded, I combined traditional crafts into a dimensional woven tapestry, stripping both cloth and ceramic of their intended function.
In his series of sculptures "Cheesecake," the works have transformed from something broken, needing mending to fully determined and self-aware. Being Black and Queer, the full complexity of the moniker Cheesecake, used to objectify an attractive, sexualized man or woman is not lost to me. Instead I embrace it, subverting the demeaning implication in describing my sculpture.
Combining lacy, embellished fabrics with ceramics contributed by students and faculty from California State University at Long Beach, my sculptural hybrids embody both danger and seduction.
I am the founder of Crochet Jam, a community-arts project infused with folk-art traditions that foster a creative culture in cooperative relationships. Born in Kernersville, North Carolina, I am earned a M.Div. from Duke University Divinity School in 1986. I was an artist-in-residence at the de Young Museum, the Djerassi Resident Artists Program, the Headlands Center for the Arts, and the Vermont Studio Center. Grants and Awards include Artadia: The Fund for Art and Dialogue, NY, the San Francisco Foundation and the San Francisco Arts Commission Cultural Equity Program. I received the 2014 Eureka Fellow, awarded by the Fleishhacker Foundation in San Francisco and a Pollack-Krasner Foundation Grant in 2021. My work has been featured in the LA Times, San Francisco Chronicle, 7×7 Magazine, Artnet, the San Francisco Examiner, and Brian Boucher's Daily Dispatch.
*****
IMAGE: Flowered Thorns #13, 2022, fabric, rope, ceramics from CSULB Ceramics Program, zip ties, jewelry, 35 x 18 x 18 inches • On exhibition at the The Contemporary Jewish Museum, until 8 Jan 2023 • Images credit: Impact Photography